Ursula Andkjær Olsen, København, 28. november 1970.
Debuterede med Lulus sange og taler, Arena og Lindhardt & Ringhof 2000. Er cand.mag. i musikvidenskab og filosofi fra Københavns Universitet og Technische Universität, Berlin. Har gået på forfatterskolen 1997-99. Skrev som musikanmelder på Dansk Musiktidsskrift fra 1992-95 og på Berlingske Tidende fra 1995-2000. Skrev til klummen Tæskeholdet i Information i 2005-6 og skrev pladeanmeldelser for Politiken i 2008. Redaktør af tidsskriftet Kritik i årene 2013-2016. Skrev i 2016 klummer i Information. Er fra februar 2016 fast lærer ved Forfatterskolen.
Har modtaget arbejdslegater fra Statens Kunstfond og Litteraturrådet. Modtog Madame Hollatz' legat i 2000, Carlsbergs idélegat i 2001, Statens Kunstfonds treårige arbejdsstipendium i 2004, Ole Wahls legat og Dan Turell-prisen i 2006, Edvard Pedersens Biblioteksfonds Forfatterpris i 2007, Det Anckerske Legat og Det Danske Akademis Otto Gelsted pris i 2010, Holbergmedaljen i 2011, Leo Estvads legat i 2012, Montanas Litteraturpris 2012 i januar 2013 og Kritikerprisen i 2016. Har modtaget adskillige præmieringer fra Statens Kunstfond, senest i 2016 for bogværket vi rus salve lavet i samarbejde med billedkunstneren Stense Andrea Lind-Valdan. Modtog Statens Kunstfonds livsvarige hædersydelse i april 2017. Medlem af Det Danske Akademi siden november 2018.
…

Olsen was born and raised in Copenhagen. She has a degree in musicology and philosophy from the University of Copenhagen and Technische Universität, Berlin. Has worked as music critic at the magazine
Dansk Musiktidsskrift
and at the two largest daily newspapers in Denmark
Berlingske Tidende
and
Politiken
. Has had both weekly and monthly columns at the daily
Information
.
Olsen made her literary debut in 2000 with Lulus sange og taler (Lulu's Songs and Speeches) and has since published nine collections of poetry in addition to several dramatic texts and libretti for operas, such as Danish composer Pelle Gudmundsen-Holmgreen's Sol går op, sol går ned, LEAVES together with Danish indie band Efterklang and composer Karsten Fundal, and composer Peter Bruun's Miki Alone, which was awarded the Nordic Council Music Prize in 2008. In 2017 her first novel Krisehæfterne (Crises Notebooks) appeared.
Olsen has received numerous grants and prizes for her work, including the prestigious award Montanaprisen for Det 3. årtusindes hjerte (Third-Millennium Heart), The Danish Critics' Award for Udgående fartøj (Outgoing Vessel) and the Danish Arts Foundation's Award of Distinction in 2017. Since November 2018 she is a member of The Danish Academy.
Third-Millennium Heart, her first collection in English, appeared in the US in 2017.Udgående fartøj (Outgoing Vessel) will be published by Action Books in 2020 in Katrine Oegaard Jensen's translation.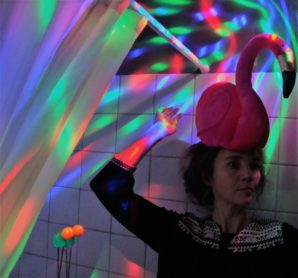 Selvportræt i eget spejl, nytår 2016-17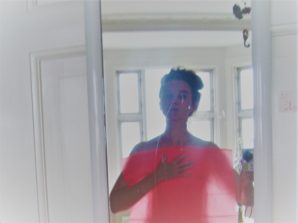 Self Portrait in my own mirror, October 2017